Skip to Content
Connecting Homeowners With the Best Installers
Your flooring installation process is as essential as your materials. Allow Vonderosa Wide Plank Flooring to help you choose the perfect wide plank flooring installer to ensure a job well done. We are a leading provider of outstanding wide plank flooring products and materials to homeowners and contractors and can ship nationwide. We have many preferred installers who exceed our clients' expectations daily. Contact us to schedule a showroom visit and get started choosing the right team for the job today.
Our Preferred Affiliates
Diorio Flooring
Diorio Flooring has served Nashua, NH and surrounding areas for over 40 years. They are committed to providing customers with top-quality hardwood flooring installation, refinishing, and repairs. They are locally owned and operated and provide exceptional craftsmanship in each service.
Flawless Floors
Since its founding almost 20 years ago, Flawless Floors has perfected hardwood flooring installation and refinishing in Massachusetts Metro West, Greater Boston, Southern New Hampshire, and surrounding communities. Their seamless installation process makes flooring projects as simple and convenient as possible.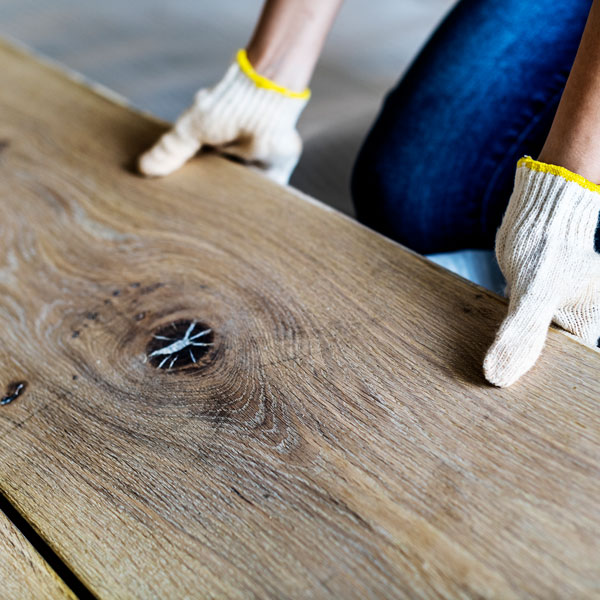 What We Look for in Installers
Every installer we refer is thoroughly vetted before approval. Since we recommend installers, we must trust and feel confident about referring them to our clients. We choose installers who demonstrate the following qualities and attributes:
Dedication: Going above and beyond for our clients at every stage.
An Excellent Reputation: Years of experience and a reputation for proven quality.
Value for Customers: Allowing clients to get the most from their services and money.
Passion: Taking pride in and standing by their hard work.
The Wide Plank Flooring Installation Process
Our installers use the following process to complete their installations:
Estimate
The installer will come to your home and measure your dimensions to develop an accurate size estimate. The estimate will account for your home's square footage.
Pricing
After the size estimate, the installer will give you a price quote. We recommend requesting three quotes from different installers but don't choose yours solely based on price.
Installation
The installers will arrive early on your installation day to deliver your flooring and begin the work. Your subfloor's condition may affect when installers can get started.
Contact Us Today to Get a Free Estimate