Skip to Content
Eastern White Pine Floors by Vonderosa Wide Plank Flooring
Eastern white pine is a popular flooring option for homeowners. It is one of the largest production species in New Hampshire. At Vonderosa Wide Plank Flooring, we work with the top mills throughout the area to identify uncommon logs with unique characteristics to provide you with gorgeous wide plank wood floors.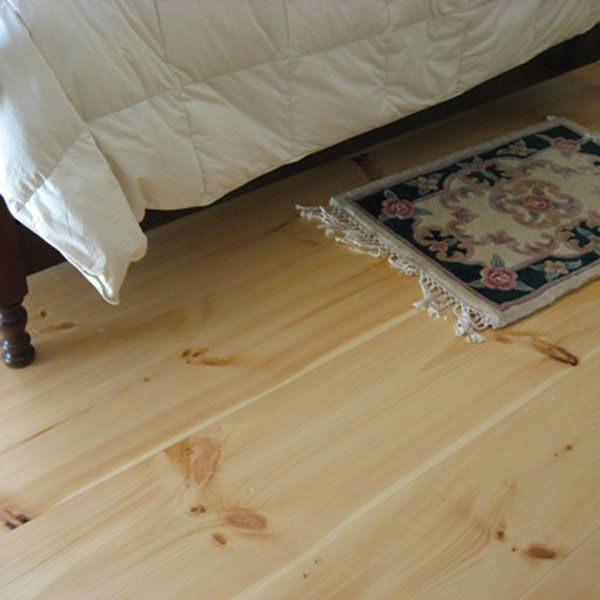 Is Eastern White Pine Wide Plank Flooring Right for My Home?
The short answer is yes! White pine is used in homes all across the country, and we're confident you'll love the way it looks in your home, barn, or cabin.
Unique Character
You won't find better character than in a Vonderosa Wide Plank flooring. Each piece is unique. Our milling partners specifically reach out to us when they produce a unique board, allowing us to provide you with wide plank flooring with plenty of character.
Variety of Widths
At Vonderosa Wide Plank Flooring, we can produce eastern white pine wood plank flooring in various widths up to about 20 inches. Wide plank flooring creates a unique and rustic look for your home that can't be reproduced.
Find the Right Wide Plank Flooring for Your Home
Vonderosa Wide Plank Flooring 's showroom in Amherst, NH is filled with beautiful wide plank flooring options, including eastern white pine. Eastern white pine is a popular home flooring option because of its unique characteristics, style, and size. Working alongside mills throughout the area can turn the common into something exceptional. Contact Brett today to schedule an appointment to view our showroom.
Contact Us Today to Get a Free Estimate