Skip to Content
Heart Pine Is a Durable and Gorgeous Flooring Option
Vonderosa Wide Plank Flooring is the leader for wide plank flooring. Our showroom is located in Amherst, NH, but we can ship our products anywhere in the United States. Heart pine is an ideal flooring option for homeowners who value durability, beauty, and longevity. Our owner, Brett Vaughn, has over 40 years of experience in production in the forest product industry. When you schedule your appointment to view our heart pine, he'll be able to answer any question you may have about it or any other wide plank flooring option available. Our goal is to give you the information you need to make the right choice for your home. Schedule your showroom appointment today.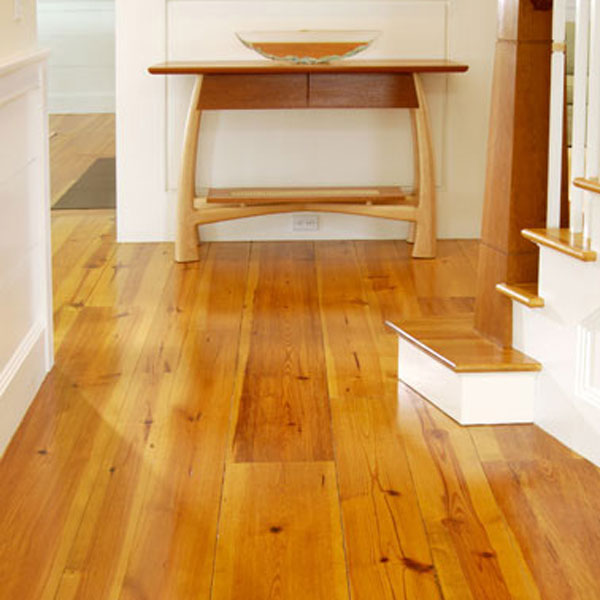 What Makes Heart Pine So Special?
Not all wood floors are created equally. We mill our heart pine from previously selected number one grade pulled for heart planks. The wood grains towards the center become incredibly tight and develops a rich color. The most crucial aspect of any heart pine wide plank wood flooring is the age of the tree from which it was manufactured. Learn more about why heart pine wide plank flooring is an excellent option for your home's floors:
Durable Flooring Option
Incredible Colors
Unique Grain Character
Easy Maintenance
Variety of Finishing Options
Numerous Widths Available
Choose From the Best Selection of Heart Pine
Vonderosa Wide Plank Flooring is the area's wide plank flooring leader. With his extensive experience and knowledge, Brett is here to answer any questions you may have about our wood flooring options. Owner, Brett Vaughn, takes a hands-on approach to help clients find the right flooring options for their home, cabin, or barn. Our beautiful barn showroom has a wide variety of wide plank flooring options on display and installed to help you visualize how it would look in your home. Heart pine's age gives it unique qualities that enhance its look and performance. Schedule your showroom appointment today to find out if heart pine is suitable for your home.
Contact Us Today to Get a Free Estimate