Skip to Content
Red Pine Offers a
One-of-a-Kind

Style

Red pine is known for its deep red shades and rustic character, making it perfect for homeowners who prefer an earthy atmosphere. Vonderosa Wide Plank Flooring offers an exceptional selection of hardwood plank flooring in our Amherst, NH showroom. Founder, owner, and operator Brett Vaughn has a degree in wood science and over 40 years of experience serving homeowners with top-quality wood production services. We aim to make the entire process as simple and seamless as possible and deliver outstanding flooring you'll enjoy for years.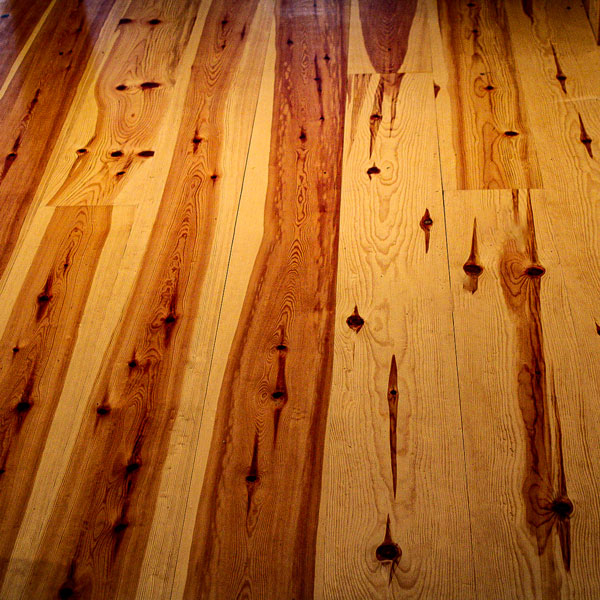 How Does Red Pine Stand Apart?
Red pine, or Pinus resinosa, is a form of pine native to North America and known for its tall growth. Its name derives from its red and brown bark and light red heartwood. Many of our clients choose red pine because it provides the following advantages:
Excellent Price Points: Red pine wood costs less than half the hardwood price and is more available to homeowners.
A Unique Look: Red pine comprises a reddish shade, rough-hewn textures, and a classic "knotty pine" appearance.
Strength: Red pine is more durable and dense than eastern white pine.
Elevate Your Home With a Red Pine Floor Installation
If you want a cost-effective flooring option that looks and functions excellently, red pine wide plank floors may be suitable for your home. Brett and the team at Vonderosa Wide Plank Flooring pride themselves on providing their knowledge, guidance, and expertise about our products and the advantages they can give to homes. Red pine is an attractive option that can match the style of any home, and we'd be honored to show you its possibilities. During your showroom tour, we'll detail how red pine floors will look, feel, and complement the rest of your home.
Contact Us Today to Get a Free Estimate